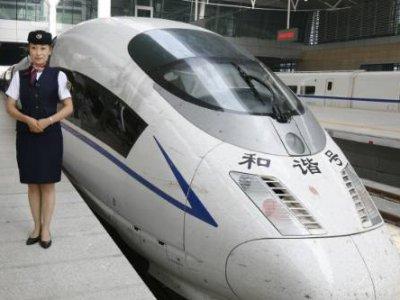 Western analysts often point to projects like high-speed rail as proof of China's seemingly boundless momentum. But as with so much else in China, the bullet trains represent both the excitement of an emerging superpower and, at the same time, the extent to which China is growing too fast and, potgentially, out of control.
Charles Lane at the Washington Post has a piece showing how it is shaping into a high speed disaster that could wreck China's economy. "For the past eight years, Liu Zhijun was one of the most influential people in China. As minister of railways, Liu ran China's $300 billion high-speed rail project. U.S., European and Japanese contractors jostled for a piece of the business while foreign journalists gushed over China's latest high-tech marvel. Today, Liu Zhijun is ruined, and his high-speed rail project is in trouble. On Feb. 25, he was fired for "severe violations of discipline" – code for embezzling tens of millions of dollars. Seems his ministry has run up $271 billion in debt – roughly five times the level that bankrupted General Motors. But ticket sales can't cover debt service that will total $27.7 billion in 2011 alone. Safety concerns also are cropping up. Faced with a financial and public relations disaster, China put the brakes on Liu's program. On April 13, the government cut bullet-train speeds 30 mph to improve safety, energy efficiency and affordability. The Railway Ministry's tangled finances are being audited. Construction plans, too, are being reviewed. Liu's legacy, in short, is a system that could drain China's economic resources for years. So much for the grand project that Thomas Friedman of the New York Times likened to a "moon shot" and that President Obama held up as a model for the United States. Rather than demonstrating the advantages of centrally planned long-term investment, as its foreign admirers sometimes suggested, China's bullet-train experience shows what can go wrong when an unelected elite, influenced by corrupt opportunists, gives orders that all must follow."
The Washington Post makes the point that the emblem of China's modernization looks more like an example of many of the country's problems: top-level corruption, concerns about construction quality and poor planning of large-scale projects.
Zhao Jian, a professor at Beijing Jiaotong University has told the Washington Post that the problem with the high speed rails projects is that they funded by debt. "In China, we will have a debt crisis – a high-speed rail debt crisis," he said. "I think it is more serious than your subprime mortgage crisis. You can always leave a house or use it. The rail system is there. It's a burden. You must operate the rail system, and when you operate it, the cost is very high."
High speed rail is expensive and it has to be funded by debt. Huge amounts of money have to be laid out for construction, tracts, and equipment, and getting enough money from ticket sales to cover the debt servicing costs is problematic. Bullet train lines in Japan, China, and Taiwan all needed bailouts. All but one of France's bullet train lines loses money. This is a recipe for disaster.
---
Other posts