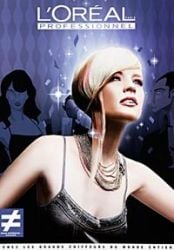 A division of French cosmetic giant L'Oreal has been fined€30,000 ($US41,000) and one of its officers given a suspended three months prison sentence for systematic racial bias.
L'Oreal unit Garnier has been found guilty of excluding non-white women when it recruited people to hand out its samples of its shampoo and discuss styling with shoppers. The company had set out exactly what size it expected the women to be, and also specified that they needed to be "BBR", the initials for bleu, blanc, rouge, the colors of the french flag. Anyone who has spent time in France knows that BBR is code used by the the far right. For employers, it's code for whites only. Asians, North Africans and Africans needn't apply.
Women with foreign sounding names or with a photo showing they were of North African or African background were eliminated. And the most chilling revelation came from one candidate who said she realized she wouldn't get the job because she was of mixed race. Some obvious historical parallels there.
L'Oreal claimsits business is a "celebration of diversity" and it's famous slogan is "Because you're worth it". Obviously in L'Oreal's view, you're worth a lot more if you're white.
While on the subject, let's not forget that Anita Roddick raised many eyebrows when she sold Body Shop to L'Oreal for for a cool £652 million ($US1.3 billion), prompting claimsthat the self-styled social activist was a hypocrite. Some time later, Roddick claimedshe was really a "trojan horse" who by selling her business to a huge firm, was putting herself in a position where she would influence the decisions it made.
Let's see if she says anything now!
---
Other posts