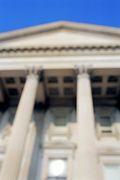 Totally unconstitutional says prosecutor Kenneth Starr in The Wall Street Journal.
Starr, who lead the charge on Whitewater and Monica Lewinsky, is now heading up the constitutional challenge to the Public Company Accounting Oversight Board by the Free Enterprise Fund, a conservative think tank.
While the case is focused only on the PCAOB, it has the potential to bring down the entire Act. And it's being heard this week, just days after the Securities and Exchange Commission came up with compromise proposals to ease the SOX burden on small business. Last month, I warned in this blog entrythat the changes to SOX won't please all parties, and the FEF case just confirms that point.
Starr argues that the PCAOB is a classic case of over-reaching. "Unelected commissions should not have the power to regulate, tax, and even punish companies and individuals,'' he writes.
You can read Starr's piece here.
In its defence, the SEC refutes refutes the lawsuit's argument that the setup of the PCAOB violated the separation of powers principal under the US Constitution. While the plaintiffs argue that the PCAOB's "inferior officer" need to be appointed by the President, a court, or the head of a federal agency, the SEC argues that these claims are without foundation because of the SEC's "pervasive oversight authority". The regulator accuses the plaintiffs of making "overblown" assertions.
What are the odds of success for the FEF?
Most are saying pretty long but in a post on his blogearlier this year, Professor Larry Ribstein says the effort is worth it. Besides, success would give Congress the opportunity to throw the whole damn thing out, he says.
At the same time, David Katz in the CFO.com blogalerts us to two potential problems with the SEC's attempt to fix Section 404. One is the sheer vagueness, and the second comes with the difficulties implementing the guidance when a "material weakness" can be the sum of many deficiencies.
One thing is clear. No matter what the regulators do, the debate will rage on. SOX rage is not going to go away.
---
Other posts