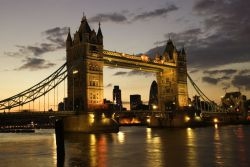 Here's a warning to America. Within the next eight years, London will overtake New York as the world's financial hub, and it will rival Silicon Valley as a technology centre.

And it's got nothing to do with Sarbanes-Oxley!

According to a Developing the Future study by Microsoft, consultancy Intellect, the British Computer Society and London's City University, London's capital markets will have overtaken New York, and it will rival Silicon Valley in the number of internet-based start-ups being launched. London's Soho will have the biggest movie digital effects industry outside Hollywood and the UK will lead the world in the production of video games.

What's driving this trend is not US regulation. It's the way the UK has embraced the so-called "Knowledge Economy". It's the fastest growing component of the UK economy, taking in sectors such as financial services, IT, business services and creative services. In less than three years' time, the report says more than half of Britain's GDP will be generated by people who create "something from nothing", with the economy rapidly developing into a fully-fledged knowledge-based economy. According to the report, the Knowledge Economy employs 41 per cent of all workers by occupational classification and 40 per cent of GDP by industry classification. It's expected to reach 50 per cent by 2010.

It's also very much about the way London has positioned itself in world markets.

"With its unique overlap of financial services, technology, media, venture capital, and government interests, London is rapidly becoming a global hub for a new class of entrepreneur as well as being an international capital for creative industries such as digital effects for the film industry and video games. The emergence of rapidly expanding economies in developing countries such as China and India are simultaneously creating new business opportunities for UK-based enterprises."

The report does point to some challenges ahead, particularly as to whether Britain can produce enough skilled graduates to meet the soaring demand.

Still, the most striking thing here is that these changes are happening regardless of US regulation.

That's not to say the costs of Sarbanes-Oxley have had no effect. But it's part of a much bigger story.

---
Other posts